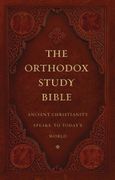 Orthodox Study Bible - Complete Bible
Product Description
ISBN 0718003594
The FIRST EVER Orthodox Study Bible presents the Bible of the early church and the church of the early Bible. Orthodox Christianity is the face of ancient Christianity to the modern world and embraces the second largest body of Christians in the world. In this first-of-its-kind study Bible, the Bible is presented with commentary from the ancient Christian perspective that speaks to those Christians who seek a deeper experience of the roots of their faith.
Features Include:
Old Testament newly translated from the Greek text of the Septuagint, including the Deuterocanon
New Testament from the New King James Version
Commentary drawn from the early Church Christians
Easy-to-Locate liturgical readings
Book Introductions and Outlines
Subject Index
Full-color Icons
Full-color Maps
Don't Forget to Follow Us and Like Us On:
***IMPORTANT NOTICE : SHIPPING ON ALL BOOKS WILL BE REDUCED TO 3.99 or 4.57 (multiple book orders up to 3 lbs.) USPS MEDIA MAIL (books and CDs) AFTER CHECKOUT and the ORDER IS PLACED . THE SHIPPING WILL BE REDUCED TO 3.99 WHEN THE ORDER IS PROCESSED AND CHARGED BY ORTHODOXGOODS.COM . YOU WILL NOT BE CHARGED MORE THAN 3.99 or 4.57. For example, if one places a book order and the shipping comes up as UPS 14.00 or so, this will be changed to USPS Media Mail 3.99 or 4.57 when WE process the order. Thank you!..2/9/2023
All purchases support Christ the Savior Seminary of the American Carpatho-Russian Orthodox Diocese. Your support is Greatly Appreciated!
Christ the Saviour Seminary Bookstore, 225 Chandler Avenue Johnstown, PA 15906
Phone: 814-539-0116